Shortcrust Croissant-Inspired Pastries with Marmalade
A Nostalgic Childhood Delight
Indulge in the delightful flavors of homemade shortcrust croissant-inspired pastries filled with marmalade. These treats always transport me back to my childhood, evoking memories of Grandma's kitchen. Unlike traditional croissants, these pastries have a croissant-inspired shape and are made with a buttery and crumbly shortcrust pastry that perfectly complements the tangy sweetness of the marmalade filling.
In my quest to recreate this cherished recipe, I present my successful attempt at baking these marmalade-filled shortcrust croissant-inspired pastries. The photos speak for themselves, and now it's your turn to experience the joy and nostalgia of these delightful treats.
Recipe yield:
40 mini pastries
Ingredients
Ingredients
340 g (2 ½ cups) all-purpose flour
200 g sour cream `
200 g unsalted butter, at room temperature
200 g marmalade

quince cheese or quince paste works perfectly,f you can't find it - choose a thick variety to prevent melting during baking;

½ tsp baking soda
½ tsp salt
2 tsp lemon juice
50 g powdered sugar
Additionally
Flour for rolling out the dough.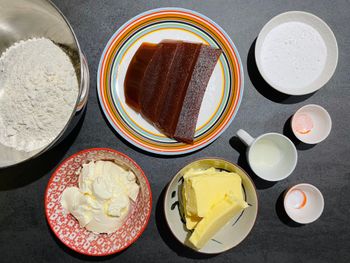 Process
Preparation
take the butter out of the fridge at least 2 hours before baking, you need soft butter for this recipe,
cut 200 g marmalade into 40 pieces (pieces of marmalade should be rectangular about 2-2.5 cm long),
preheat the oven to 170°C (340°F),
line a baking sheet with parchment paper.
Shortcrust pastry
in a large bowl, sift 2 cups (260g) of flour,
add 200g room temperature butter, 1/2 tsp salt and mix until the mixture resembles breadcrumbs,
dissolve the 1/2 tsp baking soda in 2 tsp of lemon juice, then add it to the dough mixture,
add 200g of sour cream into the dough and mix,
sift 1/2 cups (80g) of flour and mix until a smooth and pliable dough forms,
divide the dough into 5 equal portions.
Making croissant-inspired pastries
on a floured surface, roll out each portion of dough into a thin round sheet, approximately 3-5mm (1/8-1/4 inch) thick,
cut each sheet into 8 triangles, similar to pizza slices,
place a piece of marmalade at the wider end of each triangle and roll it up towards the tip to create a croissant-inspired shape.
Baking
arrange the pastries on the prepared baking sheet, leaving a small gap between them,
bake in the preheated oven for 25-30 minutes until the pastries turn golden brown,
remove from the oven and allow them to cool on a wire rack,
once cooled, dust the pastries with powdered sugar for an elegant finishing touch.
Calories (2 mini pastries):
179
Published , updated