Blueberry mozzarella salad
One of my favourite quick and easy salads to make
One of the silkiest in taste salad I've ever tried. Blueberries not only add a dimension of flavor but also add unexpected color to this salad recipe. The lemon dressing gives this fresh yummy salad an extra kick!
Ingredients:
Salad:
1 ½ cup (180 g) mozzarella,
1 ½ cup (180 g) blueberries,
½ cup (60 g) cashew,
5 cup (100 g) iceberg, romano, lettuce or even spinach.
Dressing:
½ tsp salt,
2 tbsp olive oil,
2 tsp lemon juice.
You may use any other dressing, and you can find tips for preparing an ideal dressing in the following article.
Process:
rinse blueberries and lettuce if needed, put it on a paper towel, ingredients must be completely dry before adding them to the salad, otherwise the water will dilute the dressing,
roast or fry cashew, cool them off and chop,
torn the leaves by hand into bite-sized pieces, don't chop with a knife - lettuce will turn brown,
if you are using big mozzarella balls - torn it with hands just add a rustic look to the salad,
pour oil and lemon juice into a small glass jar with a lid, add salt and shake it,
put all the ingredients in a salad bowl and pour the dressing over the salad and stir gently,
bon appetit!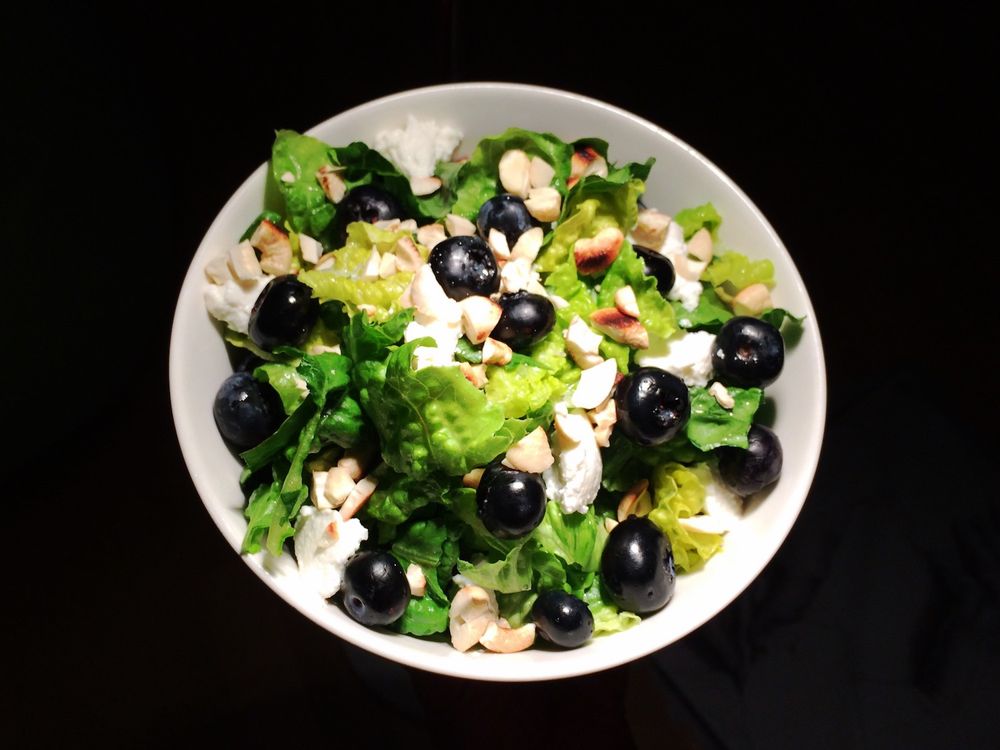 Published , updated