Simple and Delicious Crepes
These crepes recipe is very easy but it has one little secret
My grandmother knows how to cook amazing crepes without yeast - thin, ruddy, and very aromatic. For a very long time it didn't work out for me, and then I realized that if you change the process a little, then magic happens and the pancakes turn out to be perfect.
It's very simple, you need to beat the whites separately! It only takes 5 minutes, and the taste, texture, and appearance will change beyond recognition. The whipped whites give the batter a lot of air and the crepes turn out to be less dense, and many small holes appear on the surface, through which the filling loves to run away. Try it, you will definitely like it.
Ingredients
Crepes
250 g flour
3 cup (750 ml) milk
even if you only have a 200 ml cup, don't panic, just use it, the result will be amazing anyway ;)
3 eggs
2 tbsp butter
1 tbsp (15 g) sugar
1/4 tsp salt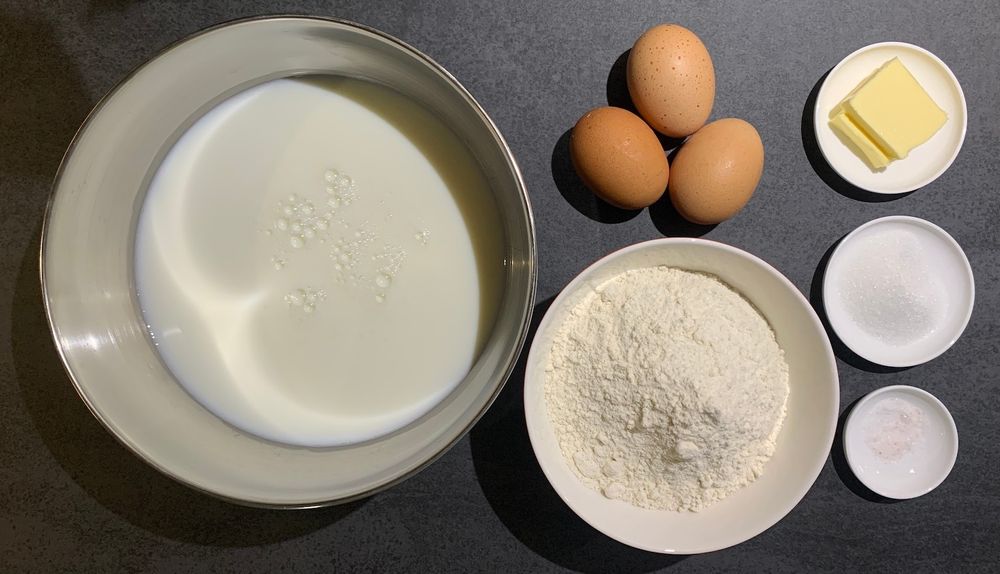 Additionally
Oil for greasing a frying pan and butter for greasing crepes
Process
separate 3 whites from the yolks and put the whites in the refrigerator,
melt 2 tbsp. of butter,
mix the yolks with the butter, 1 tbsp. of sugar, 1/4 tsp. of salt and 1 cup (250 ml) of milk,
add 250 g flour to the yolk mixture and whip the batter with a wire whisk until there are no lumps,
dilute the batter with the remaining milk (500 ml),
remove the whites from the fridge and whip them until stiff peaks form (around 5 minutes),
put a frying pan over medium-high heat,
it should be done in advance in order to start cooking crepes as soon as the batter is ready;
gently combine the whipped whites and the batter,
grease the heated frying pan with the oil,
you can skip that step if using a non-stick frying pan;
pour the batter into the frying pan using a ladle, turning the pan to spread it evenly,
as soon as the edges of the crepe become golden brown, it's time to turn it over and fry the crepe on the other side,
it's better to stack up the crepes on a heated plate, you can grease each crepe with the butter.
Published , updated