Russian Carrot Pancakes
A great alternative to classic crepes and pancakes
A wonderful alternative to traditional crepes and pancakes - they aren't like classic thin crepes or fluffy sourdough pancakes. The taste of carrot pancakes is brighter, they are perfect with savory fillings, for example, cream cheese with herbs or gravlax. No matter how happy we are with the classics, sometimes we want to try something new, these pancakes are just for such an occasion!
Today is the third day of Maslenitsa, a jolly holiday when people cook and eat pancakes for a whole week. Now you can no longer surprise your guests with ordinary pancakes. Try carrot pancakes - bright and yellow-orange, it seems that they look like the sun, eat them and a piece of the sun will be in you!
Recipe yield:
20 pancakes
Ingredients
250 g carrots
2 cup (500 ml) milk
1 1/4 cup (150 g) flour
20 g fresh (7 g dry) yeast
2 eggs
1/2 cup (125 ml) water
1 tbsp (10 g) butter or oil
1 tbsp (15 g) sugar
1/2 tsp salt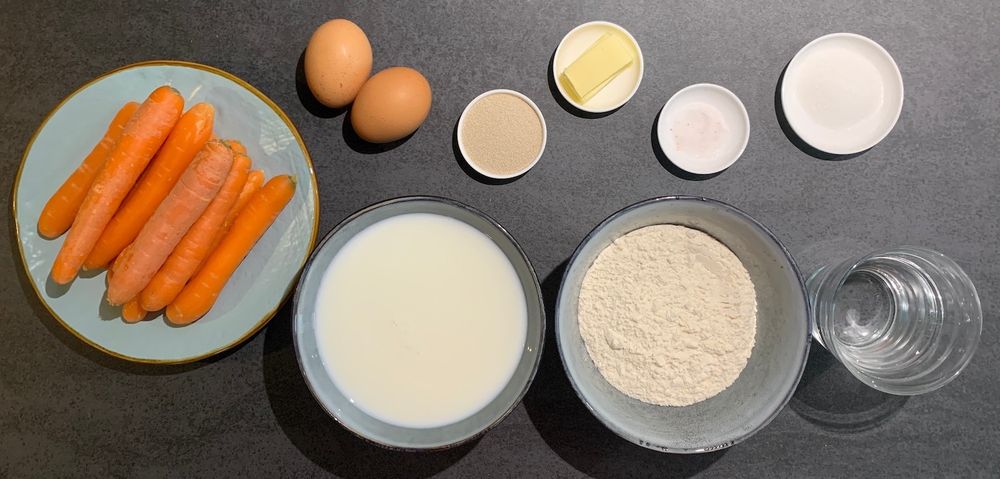 Process
Carrot puree
wash and peel 250 g carrots,
boil the carrots until tender,
put the carrots in a pot and cover with cold water, put over medium heat, bring to a boil, reduce heat and simmer for 20-30 minutes;
grate the boiled carrots on a fine grater or use a blender,
pour 1 1/2 cups (375 ml) milk into a large pot,
add the carrot puree to the pot with the milk and bring to a boil.
Carrot batter (part one)
combine 1/2 cup (60 g) flour with the boiling milk-carrot mixture so that you get a homogeneous mass without lumps,
remove the pot from the heat and slowly pour the 1/2 cup (125 ml) cold milk into the mixture while stirring gently,
heat 1/2 cup (125 ml) water to 36-38ºC,
if you don't have a thermometer, touch the water, it should be at body temperature;
if you use fresh yeast, finely chop 20 g fresh yeast into a deep bowl, add 1/4 cup of water until a paste is formed, then pour in the remaining water and mix,
if you use dry yeast, pour 1/2 cup of warm water into a deep bowl and add 7 g yeast, wait for 5-10 minutes before the yeast dissolves, no need to mix,
beat 2 eggs in a separate bowl,
slowly pour the egg mixture into the milk mixture, continuing to stir,
add 1/2 cup (60 g) of flour and mix,
pour the dissolved yeast into the batter and mix again,
cover the batter and put in a warm place for about 2 hours.
Carrot batter (part two)
melt 1 tbsp. butter, if you are using it,
as soon as the batter rises, add 1/2 tsp salt, 1 tbsp butter and 1 tbsp sugar and stir,
add 1/4 cup (30 g) flour and beat the batter with a whisk or a blender until the batter starts to bubble,
cover and put in a warm place for about 30 minutes.
Baking and serving
preheat a frying pan over medium heat,
as soon as the frying pan is warmed up, grease it with butter, if necessary (in a cast iron or non-stick frying pans, you can fry without butter),
it's better to stack up the pancakes on a heated plate, covering with a napkin; you can grease each crepe with the butter, or even keep them in an oven preheated to 60ºC, it's better to serve pancakes hot.
Published , updated