Half sour pickles
The best recipe for half sour pickles that I'm tired of always losing
Preparation time:
25 min.
Mom's recipe for lightly salted pickled cucumbers, which I always lose. They are crispy, slightly salty and the flavour is so fresh! It seems to me that they are ideal for Olivier salad when you don't have any opportunity to buy pickles. I just replace both fresh and pickled cucumbers with half sour pickles, and the result is amazing!
Ingredients:
1 kg small cucumbers,
small bunch of dill (15-20 gr),
3 tbsp (54 g) salt, it's better to use finely ground salt so it dissolves faster,
1 head of garlic,
1 l sparkling water,
to be honest, I haven't cooked with anything other than San Pellegrino, it is the water that makes the cucumbers even crisper and helps them to pickle so quickly.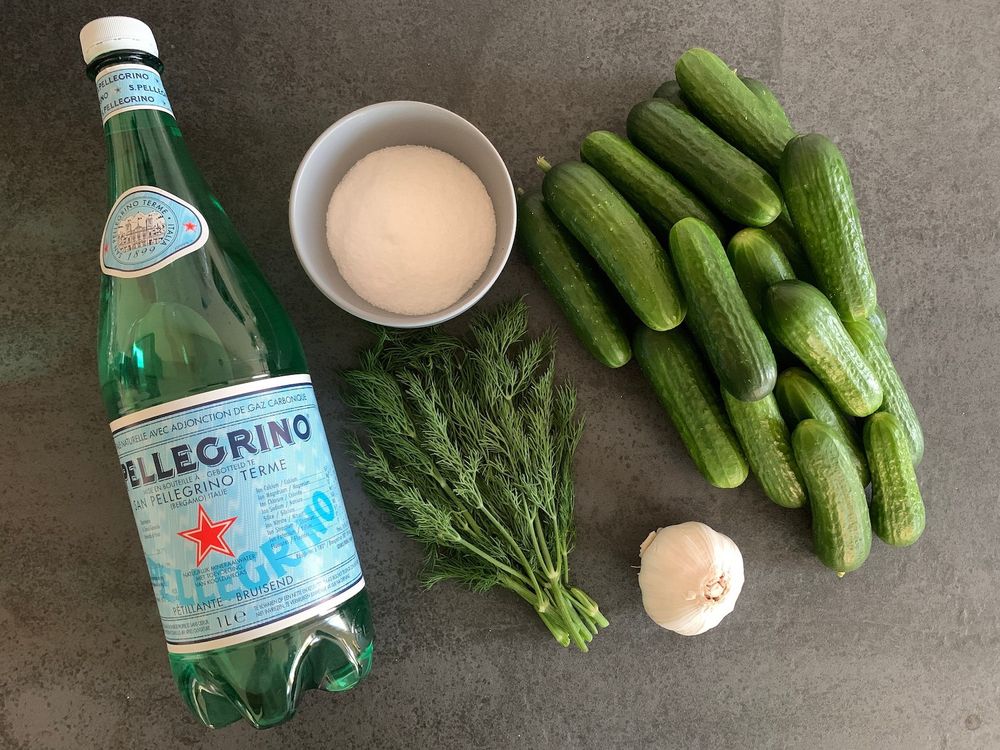 Process:

add salt to a bottle of water, it is necessary for the salt to completely dissolve before we fill the cucumbers with it; the water should remain sparkling, so do not shake the bottle,
wash the cucumbers and trim the ends,
peel the garlic and cut it into slices 2-4 mm thick,
put half of the dill in a large glass container with a tight-fitting lid,
put the cucumbers on top of the dill,
put the remaining dill and chopped garlic on the cucumbers,
fill the cucumbers with salted sparkling water,
close the lid and refrigerate for 24 hours,
these lightly salted pickled cucumbers are amazing in a day, or two, or even in a week.