Herb Crusted Pork Tenderloin
I'm sure you haven't tasted pork like this before
A few years ago my favorite TV shows were Hell's Kitchen and MasterChef. In one of the episodes, Gordon Ramsay cooked lamb ribs in a bright green crust; for me, it was very hard to buy ribs at that time, but it was easy to find any other meat which could be roasted. My choice fell on the pork tenderloin. In the original recipe, the ribs were seared, covered in breading, and then roasted; as far as I remember there was also an olive oil in the breading… Well, I've distorted the original recipe a lot but the result is perfect.
Ingredients:
Breading:
bunch of basil (30-40 g),
bunch of parsley (30-40 g),
1 ¼ cup (150 g) bread crumbs,
¾ cup (90g) grated parmesan (or other hard cheese, don't use semi-hard, such as Gouda).
Pork:
600 g pork tenderloin,
4 tbsp mustard (I prefer to use a honey one),
1 tsp ground pepper,
1 tsp salt.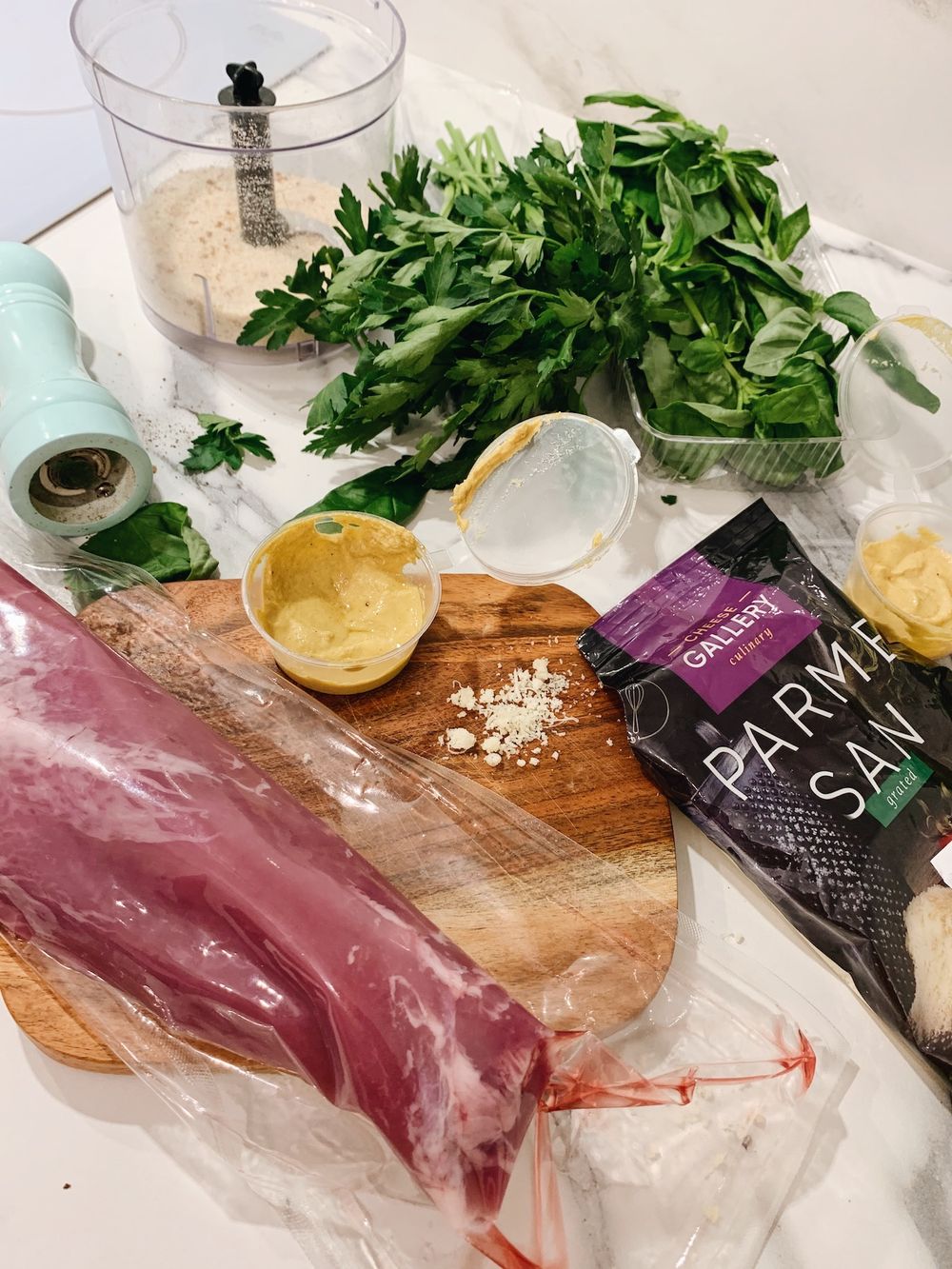 To roast pork you need a baking sheet, a wire rack, and a probe thermometer, but you can also do it without all this :) If you plan to roast pork in a baking dish or baking sheet, the bottom of the breading will be damp, but the final dish will still be delicious!
Process:
Preparation:
Preheat oven to 200 °C.
Breading:
finely grated parmesan,
remove thicker stems from a bunch of basil and parsley,
using food processor grind the parsley, basil, parmesan and bread crumbs,
put the breading in a large flat plate.
Pork preparation:
salt and pepper the pork,
brush all sides of the pork with mustard,
cover the pork in breading and put it on the wire rack.
Pork roasting:
place the wire rack with the pork on a baking sheet and put it in a preheated to 200 °C oven,
cook the pork for about 40 minutes, if you have any doubts - cut it, the middle should not be pink, and if you use a thermometer - the temperature in the center of the thickest part of the tenderloin should be 63 °C,
you can read more about cooking temperatures in this article;
as soon as the pork is ready - remove it from the oven and enjoy your meal.
Thanks to the incredible Masha @galantbeslim for the photos.
Published , updated