Lamingtons
They say there is no Australian who wouldn't have grown up eating this dessert
I bet you've never tasted real Australian desserts? It's time to fix it and try Lamingtons! :) Lamington is a dessert familiar to all Australians from childhood, it is prepared for birthdays, meetings with friends, and, of course, Australia Day (26 January). Traditionally, the lamington is made from a classic sponge cake, but sometimes a butter sponge cake is also used.
The pieces of sponge cake are dipped in chocolate icing and rolled in coconut so that you'll get a cake that tastes like a bounty bar - delicious!
Ingredients:
Sponge cake:
4 eggs,
200g (1 cup) sugar,
1 tsp vanilla extract,
200g (1 ⅓ cup) flour,
1 ½ tsp baking powder,
110g melted and cooled unsalted butter,
¼ tsp salt.
Icing/impregnation:
75g butter,
250ml (1 cup) milk,
65g (½ cup) unsweetened cocoa powder,
435g (3 cups) powdered sugar.
Sprinkling:
300g (4 cups) coconut flakes.
Additionally:
Butter and flour for greasing and dusting a baking pan.
Process:
Oven and baking pan:
preheat the oven to 180˚C,
grease the baking pan with butter, sprinkle with some flour and place the baking paper on the bottom of the baking pan,
it's better to use a rectangular baking pan 20x30cm, since the prepared sponge cake will be cut into cubes.
Sponge cake:
In a classic sponge cake, there are more eggs and the whites are whipped separately, but in this recipe I suggest you to get away from the classics to make our sponge cake denser so that it won't fall apart.
melt the butter and cool it off,
in a large bowl, whisk together eggs, salt, sugar and vanilla extract, the mixture should become thick and almost white; if you use a blender, increase its speed to high, so that this process will take you several minutes,
mix flour with baking powder and sift it directly into the egg mixture,
stir gently with a spatula,
it's better not to use a blender, otherwise the dough will be "rubbery"; you may read the post about flour to learn why this happens;
slowly pour in the melted butter, stirring until completely homogeneous.
Baking:
pour the dough into the baking pan,
bake for about 25 minutes, a toothpick inserted into the center should come out clean and dry,
baking time may be longer if your baking pan is smaller;
if the sponge cake starts to burn, poke some holes in the foil and place it on top of your sponge cake;
remove from the oven and leave the baked cake in the pan for a few minutes, then turn it out onto a wire rack,
leave the sponge cake to stand overnight (12 hours), so that it won't get wet during the next impregnation.
Icing/impregnation (after you let the sponge cake stand overnight):
sift cocoa and powdered sugar into two different bowls,
in a large stewpot or saucepan, melt the butter; do it over low heat, it shouldn't boil,
add milk to the melted butter and stir with a whisk,
do not remove the saucepan from the heat, continuing to stir the mixture with a whisk, slowly add cocoa (there should be no pieces, the cocoa should be completely dissolved),
repeat the same procedure with powdered sugar, it should also completely dissolve,
wait until the impregnation cools down completely, stir from time to time so that a crust does not appear on the surface.
Let's cook our Lamingtons:
place the wire rack on the baking paper, there you will put the prepared cakes,
put the coconut flakes in a large bowl,
cut the sponge cake into cubes (4-5cm), you may need to cut off some of the edges so that all pieces are the same,
prick the sponge cake on top with a fork or skewer, quickly dip a piece of it in the chocolate impregnation, it should not be completely impregnated, only covered with glaze on all sides,
roll the cake in the coconut flakes and place on the wire rack,
let the excess impregnation drain, wait for an hour,
put the wire rack with the prepared cakes in the refrigerator for at least 1 hour, the icing will become a little harder and the cakes won't fall apart,
feel like you are Australian and enjoy your tea party!
P.S. Do not be intimidated by the amount of sugar in the impregnation, you hardly use even half! But I don't recommend doing less because it will be difficult to dip the sponge cake. Wondering what to do with your leftovers? Firstly, mix two tablespoons of impregnation with a glass of hot milk and you have real hot chocolate; and if you add cinnamon... mmm! Secondly, you may finely chop the remains of the sponge cake, add chocolate impregnation, coconut flakes and roll the balls, cover them with coconut and let them stand in the refrigerator for at least a couple of hours - you'll get chocolate coconut candies.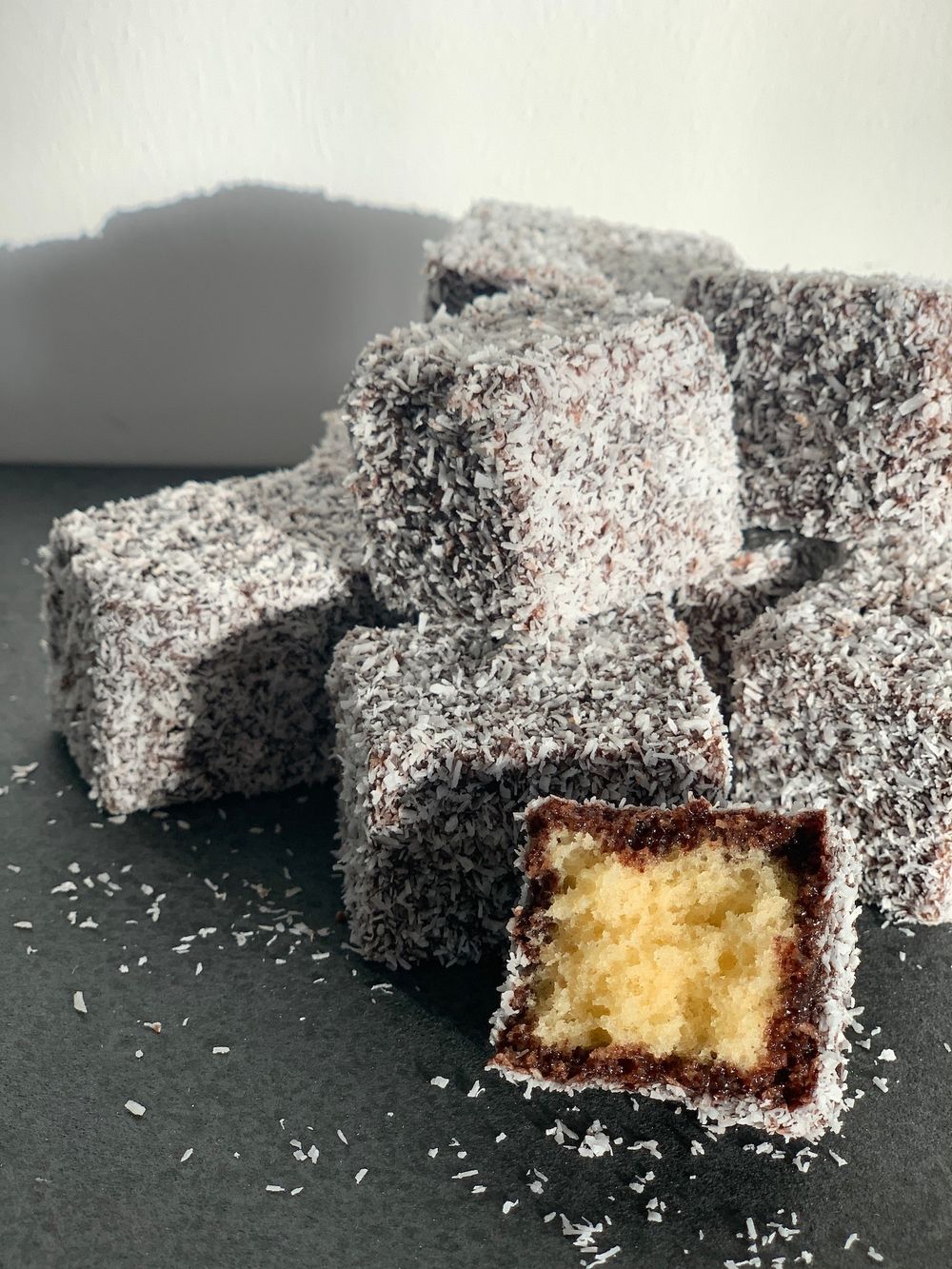 Published , updated