Apple Cake Sharlotka
Sweet, crunchy and golden brown top is perfectly balanced with moist and semi-sweet cake
Preparation time:
30 min.
Servings:
1 cake, 12 servings
Many of you most probably did not know that originally Apple Charlotte was a sublime English pudding that was probably created as a convenient way of eating up stale bread and apples. Then the recipe was modified by Germans and Classic Apple Charlotte was created - bread, soaked in eggs mixture or melted butter, on the bottom of the pan, apple purée and another layer of bread on top. Usually it is served warm with sweet sauces and whipped cream. After a decades another recipe with similar name appeared in Russia - Sharlotka, but the only thing in common with classic one are apples...
Ingredients: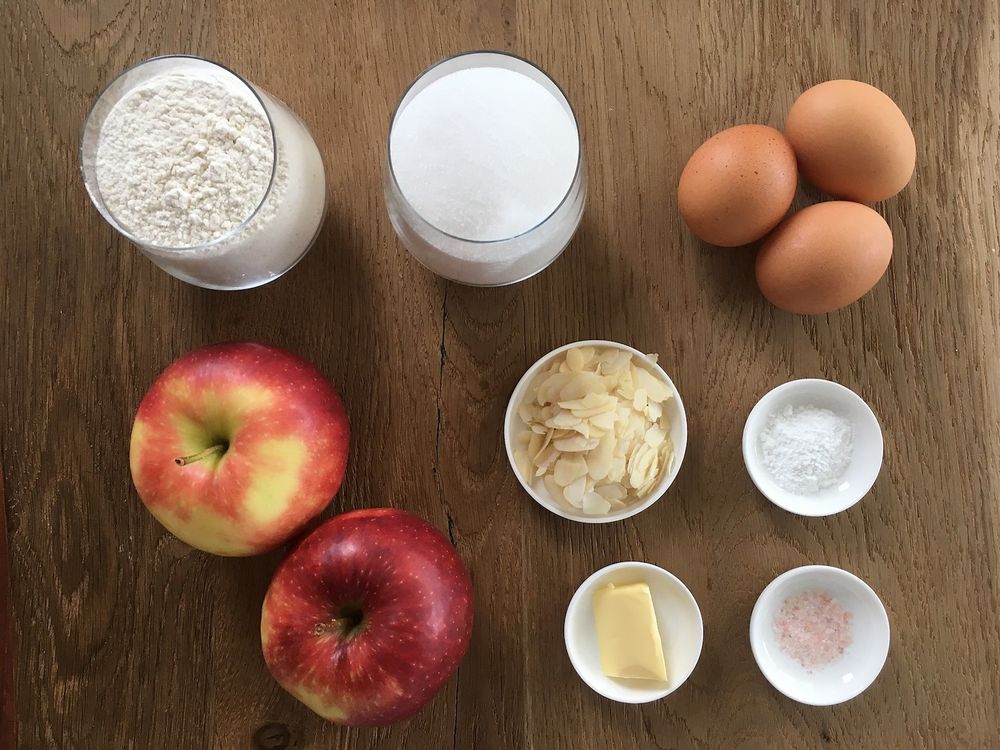 1 cup (160 gr.) flour,
1 cup (200 gr.) sugar, you can use less if apples are too sweet,
3 large eggs,
½ tsp. salt,
1 tsp. baking powder,
2 big apples, preferably tart,
3 tbsp. almond flakes (optional),
butter to grease a cake tin.
Process:
Preparation:
grease a cake tin and line with the round of parchment paper to ensure that the bottom of the cake doesn't stick,
preheat the oven to 355° F (180° C).
Apples:
Wash and cup apples.
Note: you don't need to peel apples, especially if you are using red one - apples' skin will add nice pink color to the cake.
Note: better to prepare apples before starting the batter, because once baking powder is combined with a liquid it immediately starts releasing carbon dioxide gas, that helps cake to raise; so if you start with apples when the batter is ready you'll end up with tough cake.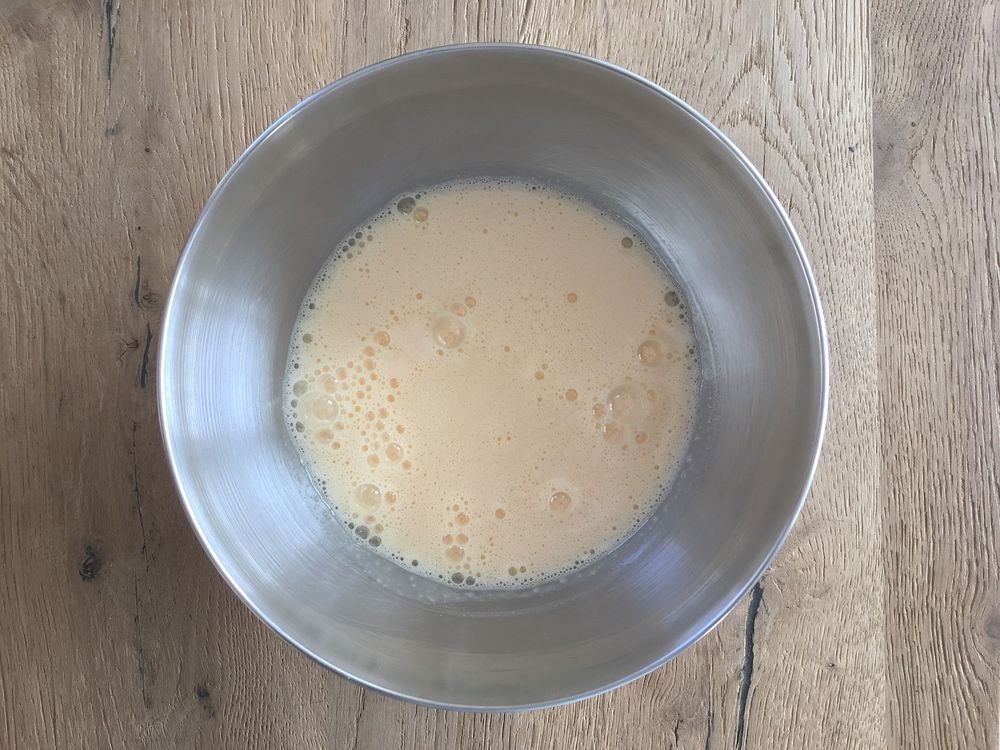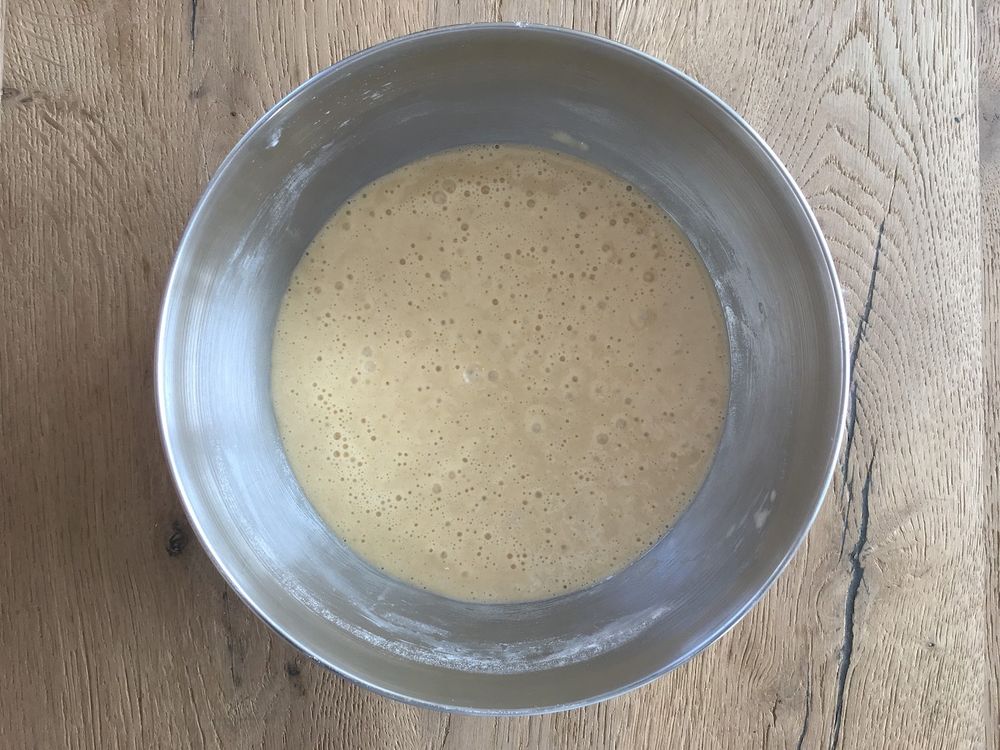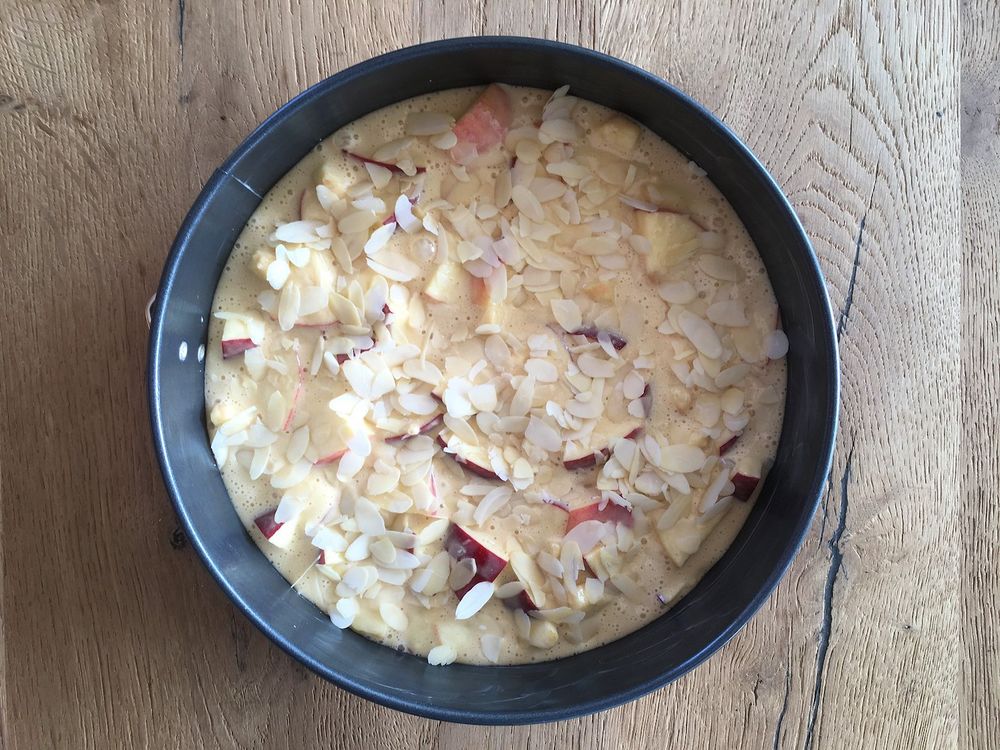 Batter preparation:
mix eggs, sugar and salt in a big bowl until the mixture is pale yellow and thick,
in a small bowl combine flour and baking powder,
sift dry ingredients into wet,
stir gently, using a wooden spoon or rubber spatula, until almost no lumps remain,
Note: over-mixing will result in tough cake
add the apples and mix gently until just incorporated,
spread mixture into cake tin and sprinkle the almond flakes on the top.
Baking and serving:
put cake in the oven and bake for about 35 minutes, until cake turns golden brown and a skewer inserted in the center comes out clean,
once done, remove it from the oven and cool for about 1 hour,
remove it from the tin and serve.